Sterling Silver Turtle Earrings On French Hooks, Green Bead Accent
$12.00
Description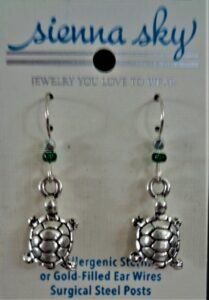 If you like turtles, you might love these sterling earrings from Sienna Sky, a company under the Left Hand Studios umbrella. They hang from sterling French hooks, and a small dark green bead at the end of the wire adds a little color.
The cast silver turtles show great detail, both on the top of the earring as well as on the underside. You can show your love for turtles by wearing this great replica in your ears.
From the large silver loop to which the wires connect, to the end of the earrings, these turtles measure 3/4 inch long and 1/2 inch wide.
Only logged in customers who have purchased this product may leave a review.