Stacked Turquoise Nugget Earrings Topped With Silver Ball, Silver Ear Wires
$6.00
Out of stock
Description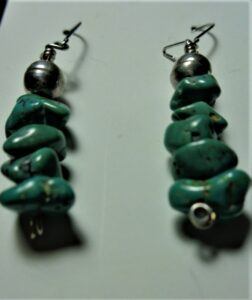 Do you like turquoise? If so, you might love these earrings. They are formed of five small uneven nuggets of green turquoise, with a silver-colored ball at the top. They are suspended from a European-style silver ear wire — the kind that you lock when you put it on, so you have no chance of losing one of them.
Simple, yet attractive, these earrings measure just over one inch long — 1 1/16, perhaps. The stones vary a bit in size, but are about 1/4 inch wide.
Only logged in customers who have purchased this product may leave a review.