Unique French Hoop Earrings With Abalone Chunk On Silver Wire Circle
$2.00
Description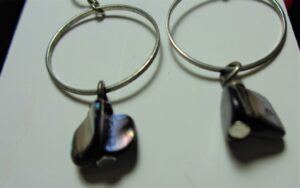 Have you ever seen an earring like this? It is very unique. Its small sterling French hoop ear wires attach to a silver metal loop. Suspended from the loop so that it will hang at the bottom of the circle is a rough chunk of material that I believe is abalone.
The sides of the unevenly-shaped abalone shimmer in the light. Though small, these unusual earrings can make a large impression. People may want a closer look, to learn what you have in your ear.
From the top of the hoop to the bottom of the abalone measures 1 1/4 inches. The hoop itself has a 3/4 inch radius. The chunk of abalone measures 1/4 inch high by 3/8 inch around.
Only logged in customers who have purchased this product may leave a review.