Sterling Silver Salmon Spirit Pin By Alaskan Artist Judie Gumm
$75.00
Out of stock
Description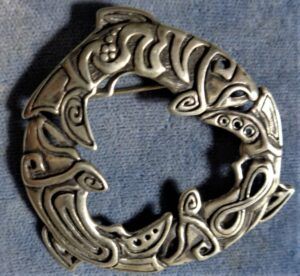 From one of my favorite Alaskan artists comes this incredible salmon pin cast from sterling silver.
This pin is more than just a pin. In her catalog, Judie Gumm writes the following explanation of this astonishing piece. She says: "Salmon Spirit was created as a prayer wheel emblematic of the life cycle. Begin with the top, at the fish's pectoral fin, and the symbol for genesis. Do you see the clutch of eggs and the Chinese symbol for homecoming? On the second fish (counterclockwise) there is the ancient sign for water and power. The three holes stand for the spirit of life. On the third fish you'll find a figure eight-like image or the sign for infinity.
This circle pin measures 2 inches from top to bottom, due to the projecting fin at the very top. It measures 1 3/4 inches wide.
Only logged in customers who have purchased this product may leave a review.