Colorful Hummingbird Spring Earrings From Holly Yashi's Niobium Collection
$37.00
Out of stock
Description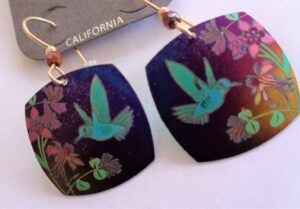 Get a jump on the season when you wear these niobium earrings from Holly Yashi's Hummingbird Spring collection. The niobium earrings have a purple background shading into red-gold. The green hummingbird with bright accents on body and head sips the spring nectar from a spray of pink flowers. The whole brightly-colored effect brings on thoughts of spring.
These earrings measure 1 3/8 inches high by 3/4 inch wide. The French hook ear wires are gold filled.
Only logged in customers who have purchased this product may leave a review.