Make A Statement With Holly Yashi's "Free Spirit" Feather Earrings
$60.00
Description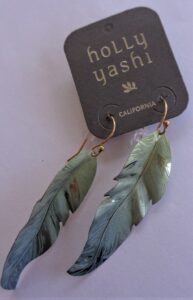 These subtle yet bold niobium earrings come from Holly Yashi's Free Spirit Feather collection. You will find the niobium beautifully shaded, ranging from a grey-green at the tip up to green-gold at the top of the feather. Detailing shows the veins and stem of the leaf.
Showcase these eye-catching earrings by wearing them with an outfit that complements their unusual color. The ear wires are French hook, gold-filled. The length of the earring measures 2 1/2 inches, and they measure 5/8 inch wide at their widest point.
Only logged in customers who have purchased this product may leave a review.