Northwest Coast Sterling Earrings, Salmon Design, by Joe Miller
$39.00
Description
A jumping salmon emerges from the waves on these Northwest Coast teardrop-shaped earrings. The company is Metal Arts Group, long known for their many classic Northwest Coast pieces by well-known artists.
The earrings are both signed by Joe Miller.  The company name, Metal Arts, and the word "sterling" all appear on the backs of both earrings.
The earrings form an oval in a teardrop shape. The design is etched into the smooth silver surface. These earrings measure 1 inch long and 1/2 inch wide at their widest point. French hook sterling ear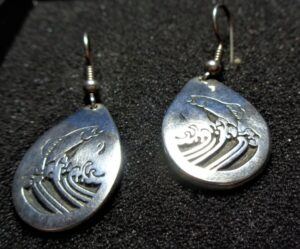 wires are attached.
Only logged in customers who have purchased this product may leave a review.