Polished "Tongue" Pendant, Large Garnet At Top, Set In Sterling Silver
$25.00
Out of stock
Description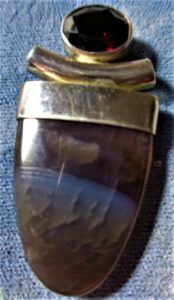 The swirling design in the stone of this pendant can lead your imagination on a long journey — Does it represent layered clouds? A landscape? Frozen Pond? What do you see?
I am not 100% sure what kind of stone this is, but would guess a lovely agate. The tailored design of this piece fits the stone well. It is set in a wide cap of sterling silver. Above the cap is a curved silver tube. You put your chain through there. Above the tube is a large, oval, faceted garnet.
This pendant measures 1 3/4 inches tall, and is 5/8 inch wide at its widest point. The garnet measures 5/16 inch high by 7/16 inch wide. This one is good for a smaller person who wants to make a large impression.
Only logged in customers who have purchased this product may leave a review.