Sale!
Pink House Handmade Long Beaded Earrings
Description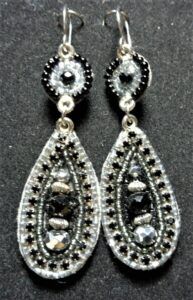 These interesting earrings come from Pink House in California. The beads appear to be attached to a leather backing material. I've examined them with my magnifying glass and believe they are hot-glued to the backing. However they are attached, they seem to be quite permanent. I found no missing beads.
This particular pair is black and silver, colors that would match many outfits. The two pieces are fastened together by small jump rings. The top piece is a circle, black beads on the edge, silver beads inside the black ring, and a faceted black bead in center.
The bottom section, shaped like an elongated teardrop, continues the pattern, though this time the silver beads form the edge, with the black inside. At the center of the teardrop is a row of larger, faceted beads, black and silver, with two small silver bead accents separating them.
The earrings have a lot of sparkle that the pictures do not show. These earrings hang from French hook wires that appear to be surgical steel. From the top of the circular piece to the bottom of the teardrop, these measure 2 1/4 inches long. At their widest point, they measure 3/4 inch.
Make a statement with these fun earrings.
Only logged in customers who have purchased this product may leave a review.