Black "Wing" Post Earrings, Three Sections, Silver Dividers Between Sections
$3.00
Description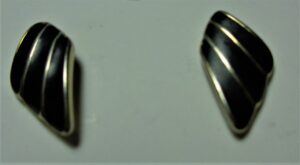 Would you like wings for your ears? These black posts might give a lift to your day. The black background is divided into three segments by fine metal lines which appear to be silver or gold, depending on the light. The backs of the posts are silver-colored and the posts are surgical steel.
These small post earrings measure 3/4 inch from top to bottom and 3/8 inch wide in the center. Perfect to wear with a business outfit when you must keep your jewelry small and unobtrusive.
Only logged in customers who have purchased this product may leave a review.