Southwest Style Heartline Bear Pin, Colorful Enameled Metal
$12.00
Description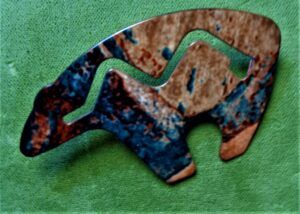 If you are into Southwestern United States design, you would love this heartline bear pin. It's made of thin enameled metal, with great use of color to enhance its appeal.
I had trouble with the pictures of these enameled pieces. I tried them in all sorts of light conditions, and couldn't get the colors to come out quite right. Where the color has a rose hue, it should be a golden brown. At least the size and shape don't change!
This pin would look great on so many things — hats, jackets, dress. Simple yet stunning, it can make a great addition to your costume.
The pin measures 2-3/8 inches from nose to tail. At its widest, it measures 1-1/2 inch.
Only logged in customers who have purchased this product may leave a review.