Wear A Piece Of Nature: Wire-Wrapped Geode Necklace On Gold Chain
$15.00
Out of stock
Description
Here is an unusual piece that works well with a casual top that displays it to advantage. Again from an estate sale, the piece, wrapped with gold wire, comes with a gold chain that measures 24 inches.
I can see no marks on the pendant or the chain. I am guessing that the artist used gold wire to wrap the geode. The chain has no marks; it must just fill the purpose of being gold-colored.
The geode itself gives off sparkles of light from the tiny "faces" of the crystals embedded in it. My camera did not capture the sparkles well.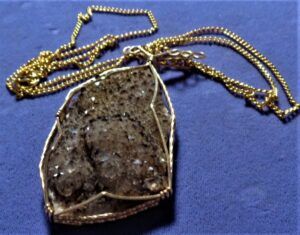 Though the background is a brownish color, the crystal sparkles appear purple, so this is probably a piece from an amethyst geode. This pendant measures a scant 2-1/2 inches from the top of the gold finding attached to the wire wrap, to the base of the geode piece. At its widest, it measures 1-1/4 inches wide.
Only logged in customers who have purchased this product may leave a review.