Indonesian Silver Earrings With Pearl And Granulated Silver Ball
$23.00
Out of stock
Description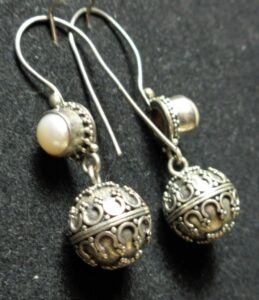 These lovely silver and pearl earrings show some of the fine Indonesian handwork. Set in sterling silver with a handmade silver ear wire, they display great detail in the styling.
These earrings could actually be placed in the Bridge Jewelry category, but I am putting them in Costume because of their neutral color. Pearl and silver will go with any outfit.
This earring is formed in two sections. The handmade silver ear wire is soldered to the top piece, which includes a white pearl set in an Indonesian silver bezel, with a single line of granulated silver circling the base of the bezel.
Attached to this piece is an ornate Balinesian silver ball featuring an intricate design of granulated silver drops, which cover the ball. Each of those little silver drops is hand-placed on the base, a process I've been told is too expensive to reproduce in this country, as it is so time-consuming to execute such designs.
The earring is a medium size, measuring 1 inch from wire to the base of the ball at the bottom. The bezel holding the pearl at the top of the earring measures 5/16 inch across. The ball at bottom measures 1/2 inch across.
These fine yet classic earrings will accent anything you wear, fine or plain, admirably.
Only logged in customers who have purchased this product may leave a review.