Adajio Earrings In Two Layers, One Of Pink Flowers, One of Copper
$12.00
Out of stock
Description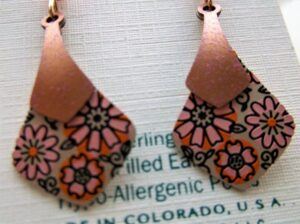 From their mother company, Left Hand Studios, located in Longmont, CO, comes this pair of "Adajio" earrings. Left Hand Studios provides an umbrella for three different lines of jewelry, Adajio being one of them.
The three lines provide excellent choices in costume jewelry in an array of colors varied enough to match any ensemble. Reasonably priced to begin with, the discounted price here in the boutique make them a supreme value. These earrings are made of thin metal, in two layers. For a pink-colored garment, or perhaps one with copper-colored accents, this pair would be ideal.
Of the two layers, the bottom one is shaped like an old-fashioned necktie, wider at the bottom and very narrow at the top. Above it is a piece with a similar, smaller copper-colored shape. This layer could actually be copper, as both sides are the same.
The larger, bottom layer has a pattern of pink, many-petaled flowers. The top copper piece has no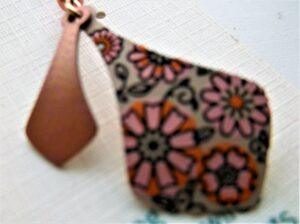 design. Where the two layers attach to the wire, there are three tiny beads, one copper, one soft pink, and one gold. The French hook ear wires are gold-filled.
From the tip of the beads to the base of the ear wire, measures 1 1/2 inches. The flowered layer by itself measures one inch at the widest point. The base layer measures 9/16 inch wide. The top layer measures 1/2 inch long and 5/16 inch wide at the widest point.
This pair would furnish a fine accent to many costumes.
Only logged in customers who have purchased this product may leave a review.