Small Jade Heart Earrings Set In Sterling, From Jade World
$35.00
Description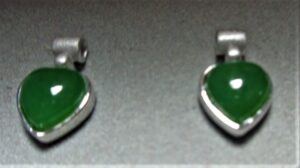 From British Columbia, the Yukon, and Alaska comes the world's finest nephrite jade. Here, set in sterling brushed silver, you'll see an example in these small post earrings. Both the settings and the earring post wire are sterling.
The jade hearts, dainty in dark green, are meant to charm and delight you, as you will find many times when you can use them. To complete your selection, add the matching jade pendant also offered in this category, and you will have a sweet little set.
These earrings in their sterling setting measure 5/8 inch long by 1/4 inch wide. At $35.00, these heart earrings are priced well below retail. When  you choose them, you choose a bargain.
Only logged in customers who have purchased this product may leave a review.