Rhinestone Necklace And Earring Set — Bling At Its Finest
$24.00
Description
A group of six posts — two in each category — are all estate items, in the class we like to call "bling." Going on a cruise? Attending a fancy-dress ball? Some of these bling pieces would be perfect for such occasions.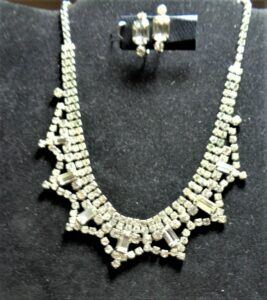 For our premier offering, check out this sparkly necklace and earring set. I'm unsure of the age of these pieces, and am lacking in knowledge about older costume jewelry, so perhaps a piece or two on here has value far above my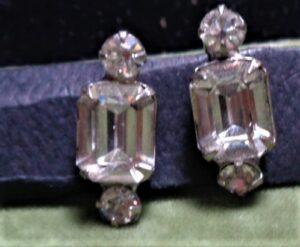 asking price.
I have looked at a variety of rhinestone necklaces that are similar to this one. This necklace and its earrings are in perfect condition. Not a stone is missing. The classic design is quite lovely. I've looked carefully on the back and find no maker's mark.
The lady's daughter said her mother liked to dress up "to the nines," and after looking at her jewelry, I can see that she had the jewelry that could make that happen.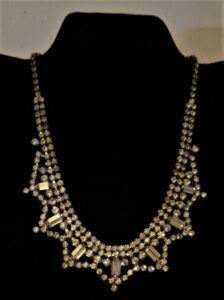 This necklace measures close to 18 inches in length — shorter if you adjust the fastener. The earrings, which are screw-backs, measure 3/4 inch long.
Only logged in customers who have purchased this product may leave a review.