Oxidized Silver Earrings, Amethyst Stone, Faceted Lapis
$38.00
Description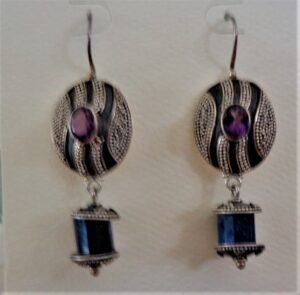 These earrings, hand-made in Indonesia, exhibit a great deal of detail. At the top, large silver ovals show an elaborate design of granulated silver drops against the oxidized surface of the silver. The placement of the drops creates a design of three wavy "avenues" through them. At its center in a high, plain silver bezel, is set an elongated, faceted amethyst stone.
Attached by loops at the end of the large oval is a barrel-shaped, faceted piece of lapis. Each end of the "barrel" is covered with a round piece of oxidized silver, with a triangular pattern of granulated silver drops around the edge.
The earrings measure 1-5/8 inches long, including the loops attaching the two halves. The oval piece measures 7/8 inch long and 1/2 inch wide. The amethyst stone measures 1/4 inch long by 1/8 inch wide.
The barrels, with their silver lids, measure 5/8 inch long by 1/4 inch wide.
Only logged in customers who have purchased this product may leave a review.