Large Rose Quartz Pendant In Heart-Themed Ornate Silver Top
$70.00
Description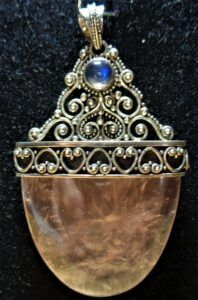 Make a love statement with this one. As two pink stones, rose quartz and rhodonite, share the reputation of being stones of love, give this one as a special present to one you care for dearly.
The very large rose quartz piece in this pendant measures 1-1/4 inches long x 1-3/4 inches wide at its widest point.
The large unadorned stone interacts well with the intricate cap in which it is set. From the base which encloses the stone to the top, where the bale is attached, the silver forms a triangle with fluted edges.
A design of hearts encircles the stone itself and forms a heart-like curlicue design above. The pattern is outlined with granulated silver dots, including a ring of these around the stone set at the very top of the pendant.
At first, I thought this stone at the top was a rainbow moonstone, but it's a bit dark for a moonstone. Instead, I think it is a round labradorite cabochon with vivid blue fire, 1/4 inch across. The combination is very nice.
In fact, the total look of this piece is quite lovely. Because of the size, it will be noticed, and the wearer may well receive many compliments. From the tip of the silver setting to the base of the pendant measures 2-3/4 inches.
Let's not forget the large silver bale. It also includes two rows of granulated silver drips for a decoration. All detail has been worked out carefully on this one.
You will, indeed, get a bargain here, as the retail value is set at $110.00. However, your price on this one has been reduced to $70.00.
Only logged in customers who have purchased this product may leave a review.