Butterscotch Amber Pendant And Earrings, Sterling Findings
$25.00
Description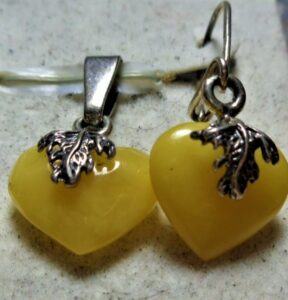 Are you familiar with amber? It is a petrified resin from an extinct form of pine tree. The most well-known amber is Baltic amber, which floats up from the bottom of the Baltic Sea. My amber is for the most part Baltic amber.
This ancient substance has a long history of use, and not just for jewelry. In ancient Russia, it was thought to have mystical powers. It has been used as incense, as it gives off a very pleasant scent when burned. It has also been used for healing.
Amber has been with us for a long time, and has existed for a longer time than we have. The set shown here is from some of the youngest Baltic amber, known as "butterscotch amber." Its age is approximately 20 million years old. The amber is carved into the shape of small hearts, and the heart is fastened to the ear wire with a sterling silver clasp in the shape of a leaf. A good-sized bale is supplied with the pendant, allowing easy passage of a chain or a fine cord for wearing.
The ear wires are sterling silver, and are the wonderful European kind of wire that locks in place, so you won't lose one.
The little heart earrings measure 1/2 inch from the loop that fastens to the wire to the base of the heart. The pendant, from bale to heart tip, measures 1 inch.
Only logged in customers who have purchased this product may leave a review.