Square Jade Pendant With Sterling Bezel And Chain From Jade World
$45.00
Out of stock
Description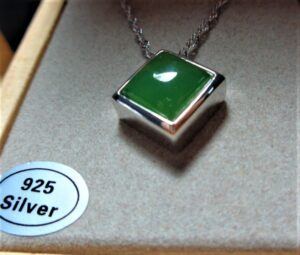 Jade World's jewelry is created from the finest nephrite jade, which is found in the mountains of British Columbia, the Yukon, and Alaska.
This square of jade in its sterling bezel comes with a fine, attractive sterling chain in a twisted pattern. The chain is 18 inches long. The jade square measures 3/8 inch per side.
Know that this fine piece will never go out of style.
Only logged in customers who have purchased this product may leave a review.