Earrings Of Prehnite, Cat's Eye, And Indonesian Silver On Sterling Wires
$45.00
Description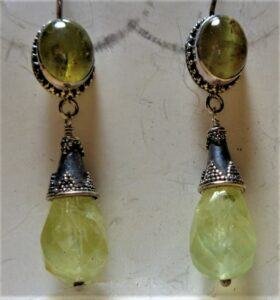 For several years, I attended the Tucson Gem and Mineral Show in Tucson, Arizona. It seemed that each year, I learned a new gemstone. One year the stone was prehnite, the yellow-green gem shown in this pair of earrings.
This unusual stone, though lovely in jewelry, has been used more for healing. Meditate with it or wear it to release healing benefits. It is called the "heart stone" and is also said to facilitate divine communication. Wear it and commune with the gods.
The earring is made in two parts. The base is a faceted, bulb-shaped prehnite gem set into an oxidized silver Balinese cone. Around the top and bottom of the cone are granulated silver drops, placed in a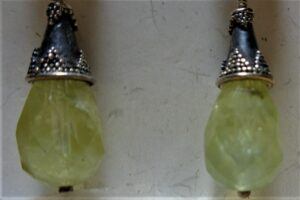 triangle pattern. This base piece measures 1 inch long.
This bottom prehnite is attached to the top piece with a silver loop. At the top is set a cat's eye. As prehnite can form cat's eyes, I'm guessing this light-olive green could also be prehnite.
The cat's eye is set in a silver bezel, which has a single  row of granulated silver drops around the base. The stone itself measures 1/2 inch long by 3/8 inch wide.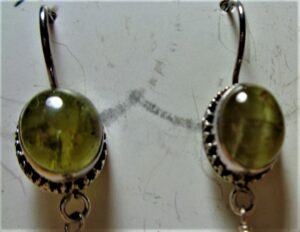 The total earring length from top to bottom is 1-3/4 inches. The handmade sterling wire is soldered to the top piece.
Only logged in customers who have purchased this product may leave a review.