Lovely Larimar Post Earrings Set With Four Terrific Stones
$60.00
Description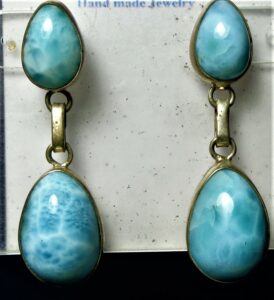 Two teardrop-shaped stones, smaller one on top and larger below, form these larimar earrings.
These "teardrops" all point upward, rounded parts at bottom. In between the two stones is an elongated, flattened silver loop, connected on either end to a round loop attached to the stone. These findings allow the stones to show off their lovely marbling to great advantage.
If you need a larimar pendant to accompany these earrings, look through the "bridge" category for ones already offered.
Larimar is a rare stone. Mine comes from the Dominican Republic, where it is found inside the cone of an extinct volcano.
These earrings measure 1-1/2 inches long. The large teardrops at the bottom measure 5/8 inch long by 3/8 inch wide. The smaller stones at the top measure 1/2 inch long by 1/4 inch wide.
Only logged in customers who have purchased this product may leave a review.