Small Mammoth Ivory Bear Pendant, 18-Inch Sterling Chain
$35.00
Description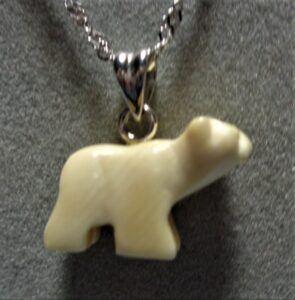 Jade World brings you this small mammoth tusk carving of a bear. The bear has a bale attached to his back that holds an 18-inch diamond-cut sterling chain.
This cute small carving brings memories of our ancient beginnings. Interesting to realize that the bear is far older than any of us. Wear this carved bear and chain to bring you good luck.
The ivory in this pendant, and in the bear pin shown as well, are prehistoric fossilized ivory; thus using this material does not endanger any living creature. I will not buy and sell elephant ivory because I do not wish to support the illegal killing of elephants for their tusks.
Only logged in customers who have purchased this product may leave a review.