Long V-Neck, Large Silver Fish, Barrel-Shaped Silver Beads
$18.00
Description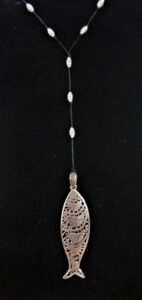 From Pink House in California comes this long necklace featuring a large silver fish, black cord, and intermittently-spaced barrel-shaped silver beads. Both fish and beads sport ornate detail, making this piece quite interesting.
The black cord is knotted at front and back of every silver bead, ensuring their stability. I don't believe these silver pieces are sterling, but I'm guessing they are tarnish-resistant.
This one is a long one. From the "Y" to the top of the necklace it would be a 30-inch
length. Then add four inches for the cord and beads below the "Y" and add another 3 3/4 inches for the fish. If you like long, here you have it.
Wear this festive fish as a celebration of the day.
Only logged in customers who have purchased this product may leave a review.