Bring A Smile On A Dark Day With These Lovely Sun Earrings
$12.00
Description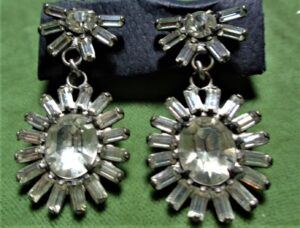 With these earrings, you will never have to go without sun. These perfect rhinestone screw-back earrings give you a sun and a half for each ear! If I still wore such lovely jewelry, I would keep this pair for myself.
Though dressy, they could also enhance a severe dress or suit, and add just the right touch of glitter to an otherwise austere display. Of course, with these big, clear stones, the set will go with any color.
The earrings measure 1-1/4 inches long, and 5/8 inches wide at their widest point
Only logged in customers who have purchased this product may leave a review.