Handmade Block Print Bracelet, Polymer And Resin Finish
$18.00
Description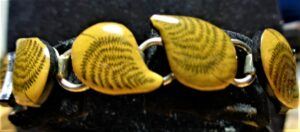 This piece was handmade by Alaskan artist, Catherine Joan Petersen. Originally from Scotland, Catherine has spent 25 plus years in Alaska. She gains her inspiration from Alaskan nature. While studying in California, Catherine received a scholarship to Taiwan to learn the ancient art of wood block printing.
These pieces start with a handmade wood block design. A base layer of polymer is prepared and then pigmented before receiving the image. One thick layer of resin over the image gives the piece a

glossy, luminous appearance.
This bracelet has a pattern of leaf-shaped pieces curving against each other. The block print design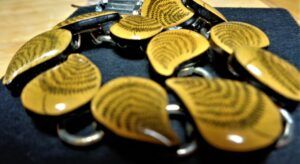 appears to be a fern frond. Background is a mustard-yellow color. The block print pieces are securely fastened to a base of round metal plates attached to metal loops.
On the end is a locking clasp. From clasp to ring at the other end, the total length of this bracelet is 7-1/4 inches. The bracelet measures 1/2 inch wide.
Only logged in customers who have purchased this product may leave a review.