Cornelian And Citrine Earrings, Handmade Silver Wires
$22.00
Description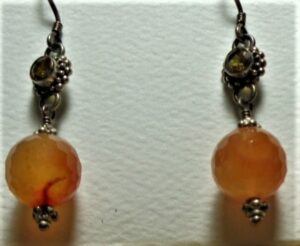 These dangling earrings have an antique look that makes them quite appealing. Ornate findings adorn top and bottom of the multi-faceted cornelian ball that hangs at the base of the earring.
Cornelian is a form of chalcedony. Citrine is usually heat-treated amethyst or a form of smoky quartz.
Above the ball with its unique findings, two small rings attach it to the top stone, a small citrine, also faceted. Around the silver bezel of this stone is a row of tiny granulated silver beads. Handmade sterling wires attach to a loop atop the citrine setting.
Because of the faceting of the stones, top and bottom, they catch the light and reflect it outward, making these earrings very eye-catching.
These earrings measure 1-1/4 inch from the wire of the earring where it attaches, to the bottom of the cornelian ball. This ball measures 7/16 inch across, and the small, round citrine measures 1/4 inch across. This hard-to-find color combination might be just the pair you need.
Only logged in customers who have purchased this product may leave a review.