Large Chinese Turquoise Pendant Set In Sterling Silver
$48.00
Description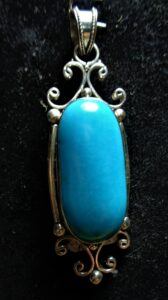 This long and large pendant is set with a beautiful piece of Chinese turquoise in an ornate silver frame. Made in Indonesia, the pendant's stone is set in a silver bezel with a curlicue design formed of heavy silver wire. The design is repeated at top and bottom.
The large bale at the top has a "signature" row of tiny granulated silver beads on each edge. The loop of the bale is large enough for a heavy silver chain or a cord. There is a 925 sterling stamp on the back of the silver frame.
The pendant measures 2-1/2 inches from the top of the bale to the bottom of the silver frame. The pendant is 1/2 inch across at its widest point.
Only logged in customers who have purchased this product may leave a review.