Sale!
Joseph Brinton French Hook Earrings With 14K Rolled Gold Wires
Description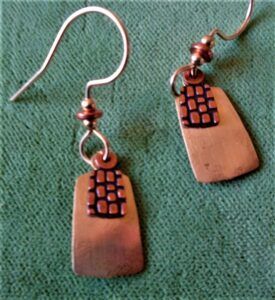 These small dangly earrings would work very well with clothing that called out for gold accents. The rectangular-shaped base piece of these earrings is shiny gold-colored brass, simple and plain.
A much smaller rectangle lies on top, with a design outlined in black, making a pattern looking like small bricks. This piece is copper. At the end of the ear wire, where the pieces attach to the wire hangs a small copper washer. Further up the ear wire you will see three small beads, two of gold, set on either side of a larger copper bead.
Though simple, the small details on these earrings make them very attractive. In addition, they are very light-weight.
The brass rectangle measures 1/2 inch long and 3/8 inch wide. The smaller copper piece on top measures 1/4 inch long by 3/8 inch wide.
Only logged in customers who have purchased this product may leave a review.