Pink House Handmade Earrings, French Wires, Gold And Bronze
$4.00
Out of stock
Description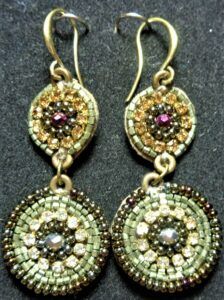 Here is another beaded pair from the California company, Pink House. These are formed with two circles that are connected by jump rings. Backs appear to be leather, and I believe the tiny beads are attached with a hot glue gun.
The smaller circle at top, which measures 1/2 inch across, is covered by three rings of beads, silver-colored, gold, and bronze, with a small faceted purple bead at the center of the circle.
The bottom, larger circle measures 3/4 inch across, and also features circles of tiny beads. These start with a bronze outer row, then silver, clear, and bronze, and a faceted silvery bead at the center. Again, the photos do not show the shimmer. This pair sparkles even more than the other similar one.
Total length of these earrings, from top to bottom, is 1 5/8 inches long. Ear wires are gold-colored, most likely surgical steel.
Only logged in customers who have purchased this product may leave a review.