Venetian Millefiori Teardrop Pendant, Flower-like Pattern In Blue Glass Background
$20.00
Description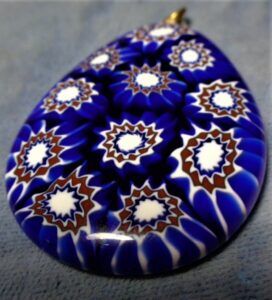 Here is a very special offering, priced 'way below its retail value. It's a teardrop-shaped pendant, formed of Italian Venetian glass with a technique called "millefiori." This word represents a combination of the Italian words "mille" (thousand) and "fiori" (flowers).
Millefiori is the most complex glass-making technique around. On a glass rod go multiple layers of semi-liquid glass paste, placed one on top of the other. Then the rod is stretched, cut into small cylinders, and fired in a special oven.
As you can see, this technique produces distinctive flower-like patterns in the glassware. This large teardrop-shaped pendant has a gold loop at the top for your chain. It measures two inches from top to bottom and 1 1/4 inches at the widest point of the base.
I looked up millefiori pieces online and learned that the value listed for a pendant ranged from $40.00 to $60.00. Therefore, at $20.00 you get a real bargain.
Only logged in customers who have purchased this product may leave a review.