Jade World Carvers Create Nephrite Jade Earrings
$27.00
Out of stock
Description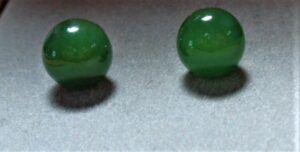 From Jade World in Canada comes these round ball earrings. These are fastened to a small sterling silver ball, to which the post and earring wire is attached. A classic style jade earring, these never lose their popularity.
The name "jade" goes back to the Spanish conquest of Central and South America. It was known to provide protection and a cure for kidney disease.
In 1863, a Frenchman proved that two minerals, jadeite and nephrite, were the same gemstone as what we call jade. This stone has been known for over 7,000 years.
The jade is an 8 mm ball. From the tip of the round silver ball to the bottom of the jade ball measures 1/2 inch. Each post is held in place by a finding that includes a round, flat piece that lies next to the ear, keeping the earring stationary and making these earrings more comfortable to wear.
Only logged in customers who have purchased this product may leave a review.