Trifari Necklace Set With Flowers In Soft Shades Of Green, Blue, Pink
$39.00
Out of stock
Description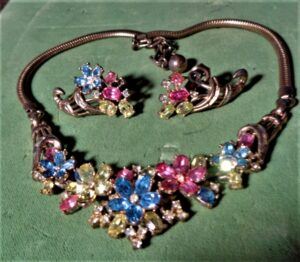 If you prefer color with your "bling," take a look at this jeweled cornucopia of flowers in assorted lovely colors. Set in a substantial gold metal base, with heavy gold-colored chain on either side, this piece will truly stand out when you wear it. The sparkling stones in the flowers are pink, green, and blue.
One of the earrings has a blue flower missing. You could still wear them both, and most likely no one would notice, so I'm including them with the necklace at no extra charge.
These earrings are clip-ons, and on the back of the clip is the inscribed name, "Trifari." When I looked up Trifari online, I found that many of these pieces are very expensive, so believe my price to be quite low. You could probably double the price and sell it on eBay easily.
The necklace measures a little over 16 inches long.
Only logged in customers who have purchased this product may leave a review.