Black Onyx Ring Set In 18 Karat Heavy Duty Gold Electroplate
$29.00
Description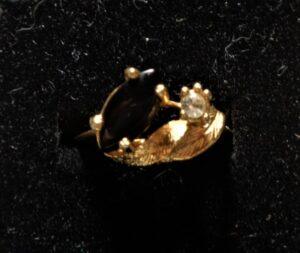 This black gemstone, onyx, actually comes in several colors, but the most common is the black. The gem is helpful in grounding and balancing yourself, and also works well as a protective stone.
Black onyx offers its owner powerful vibrations of protection, willpower, focus and strength. While it grounds you, it also gives you the power needed to start pursuing your dreams; then it will protect you on your journey.
The black onyx stone is a narrow, long oval, approximately 3/8 inch long. Set next to it is a small, clear sparkler, either a CZ or a chip diamond.
The band and setting are gold, and inside the band is stamped "18K HDGE," which stands for 18 karat heavy duty gold electroplate. Two gold leaves curve next to the stones. The ring is a size 6.
This ring is made in an elegant style with great attention paid to detail. Very well-designed, it will earn you compliments when you wear it.
Only logged in customers who have purchased this product may leave a review.