Heart-Shaped Rhodonite Pendant With Sterling Chain
$32.00
Description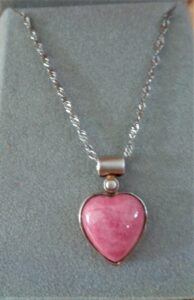 From the Canadian company, Jade World, comes this romantic heart-shaped rhodonite pendant. As this stone is called the "stone of love," it's very fitting that it comes in a heart shape, don't you think?
The heart is set in a sterling frame, and is stamped "925" and "J W" (for Jade World) on the back. The chain itself, which measures 18 inches long, is a fine diamond-cut rope chain, giving off its own sparkle.
This lovely rhodonite heart measures 1/2 inch across and 1/2 inch wide.
Only logged in customers who have purchased this product may leave a review.