Green Turquoise Earrings, Silver Frame, Faceted Amethyst Teardrop
$48.00
Description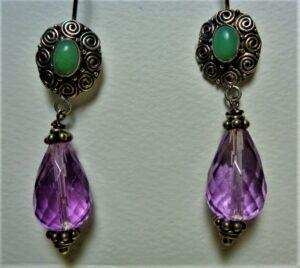 These remarkable earrings feature several details which make them exceptional. The hand-made sterling wires are soldered to an ornate oval silver plate. This plate features round coiled silver wire decorations fitted together around a small green turquoise stone.
Unique cap-like findings attached to this top "shield" of silver, clasp the end of a long, teardrop-shaped amethyst, covered with tiny facets over its entire surface.
Another cap-like finding clasps the base of the amethyst stone. Great attention has been paid to details with this handsome set. Reward yourself by making these your own.
Only logged in customers who have purchased this product may leave a review.