Gorgeous Purple Fluorite Pendant, Large, Round Garnet At Top
$29.00
Out of stock
Description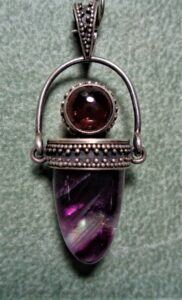 This fat fluorite pendant with Indonesian silverwork shades from deep purple to lavender, with some clear areas that serve to set off the purple nicely. Above the fluorite stone is a deep-red round garnet.
The fluorite is set in a cap of sterling that features an intricate granulated silver design.
This stone, large at top and rounding to a soft point at the base, is a very striking piece. It measures 1-1/2 inches long from the loop holding the bale to the base of the stone. The pendant measures 1/2 inch wide at its widest point.
The round garnet, set in a silver bale with a lacy edge of granulated silver, measures 1/4 inch across.
Only logged in customers who have purchased this product may leave a review.