Dark Amber Tongue Pendant, Generous Rainbow Moonstone
$28.00
Description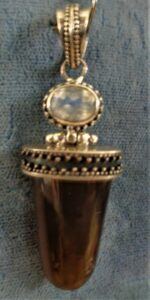 I have never seen another piece quite like this one. The smallish amber "tongue" is set in a bale decorated with double rows of granulated silver. A large, lovely rainbow moonstone is attached by a small hinge to the top of the bale of the "tongue." Its silver setting is also decorated around the base of the bezel with small silver drops.
Attached to the top, above the moonstone hangs a large bale for chain or cord, also decorated with two rows of granulated silver drops.
This pendant measures 1-1/2 inches long from below the bale to the end of the pendant. At its widest point, it measures 3/4 inch wide. The amber, from the top of its bezel to its base, measures one inch long.
The brown-gold of the amber and the rainbow rays from the moonstone create a piece that can enhance many outfits.
Only logged in customers who have purchased this product may leave a review.