Large Faceted Chinese Turquoise Pendant With Sterling Silver Bezel
$75.00
Out of stock
Description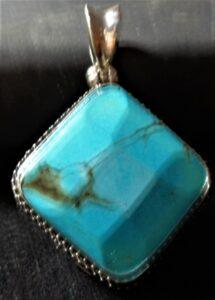 This large, square-shaped pendant of Chinese turquoise was made in Indonesia. A good identifying sign of its place of origin is the 1/4 inch wide bezel in which this piece is set. The bezel features Indonesian granulated silver work. The tiny dots that form the design on the bezel edge are each added singly to the silver base.
The stone itself is faceted, and these facets appear on both sides of the stone. The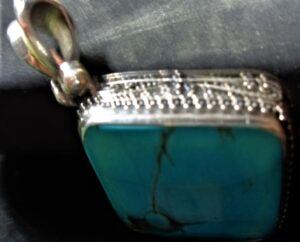 back is open for two reasons: It allows the stone to breathe and also shows off the beauty of the back of the stone as well as the front.
The large silver bale on top allows ample space for a stout chain or a cord. This square piece turned to a diamond shape measures 1 inch square. From the top of the bale to the base of the pendant measures two inches.
Only logged in customers who have purchased this product may leave a review.