Collect This Alaska State Flag On Pin And Bandana
$3.00
Description
If you would like an Alaskan remembrance, here you will see a couple of fun ones. There are not one, but two Alaska state flag pins. The bandana, also a copy of the Alaskan flag, measures 21 inches square.
Our flag got its design in 1927. Students in Alaskan schools participated in a contest to design a state flag for us. The winner was a 13-year-old Native boy living in Kodiak; his name was Benny Benson.
His design, shown on a dark blue background, included the big dipper, outlined with stars of gold, with the North star above it.
In my early years in Kodiak, I met Benny and his wife. My husband and I often saw them on a somewhat remote beach that was apparently a favorite hiking place of theirs, as it was for us.
Wear the pin and bandana with pride, as our state is one to be proud of.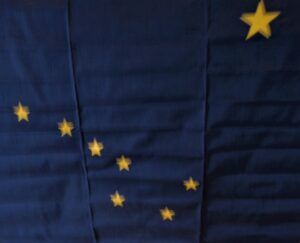 Only logged in customers who have purchased this product may leave a review.