Bracelet Of Blue Rectangles With Bear Paw Block Print Design
$18.00
Description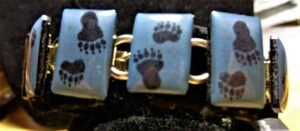 Perhaps you would like this bracelet, handmade by Catherine Joan Petersen, Alaskan artist. It features rectangle-shaped pieces laid side by side, each with two bear paw prints. The background color of the rectangles is a dark sky-blue, and the bear paw carved

block print images are black.
A base layer of polymer is prepared to receive the image. Over the top of polymer and image goes a thick layer of resin, creating the glossy finish. The bracelet is light-weight, not heavy, as glass.
This bracelet measures 7-1/4 inches long and 3/4 inches wide.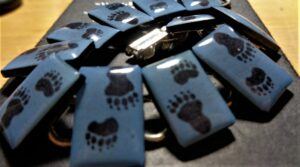 Only logged in customers who have purchased this product may leave a review.