Rainbow Moonstone Post Earrings Set In Curled Loop Of Silver
$9.00
Out of stock
Description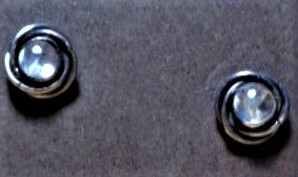 Silver wire twists into a nest to hold these lovely rainbow moonstones. The silver is oxidized, which helps the stone to stand out and reflect its rainbow glint.
These posts are just large enough to show up well in your ears, yet small enough to retain a conservative look. Wear these earrings with a dressy garment or with a casual outfit. They will look good with either.
The post earrings measure 7/16 inch across. Small and light-weight, they are waiting to please their new owner.
Only logged in customers who have purchased this product may leave a review.