Boulder Opal Pendant Set In Sterling In Indonesia
$60.00
Description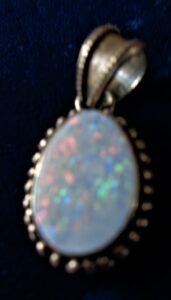 The boulder opal can be defined as a rock that contains thin seams and patches of opal, surrounded by or attached to its natural host rock. It's also known as "natural opal type 2.
This small opal has lots of fire. It is set off well by the silver bezel. The frame around the stone features two rows of tiny silver beads set one on top of the other.
The pendant is topped by a typical Indonesian bale, large enough for cord or chain. The bale narrows to a very small width where it attaches to the stone, but flares to be wider at the top of the bale.
The edge of the bale is decorated with a row of granulated silver beads on both sides.
In a teardrop shape, the stone measures 3/4 inch by 1/2 inch. From the top of the bale to the base of the pendant measures1-1/4 inches. The full pendant measures 9/16 inch wide.
Only logged in customers who have purchased this product may leave a review.