Sale!
Alaskan Porcupine Quill Earrings Made By Pam Holmquist
Out of stock
Description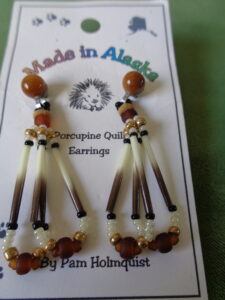 Here is yet another pair of Pam Holmquist's attractive porcupine quill earrings. This pair features tiger eye beads at the top, with smaller pieces as accents, both above and below the quills. Tiny pearls and gold beads finish the combination.
These earrings showcase the porcupine quills very nicely. The total length from the bead at the top to the base of the earrings measures 1-3/4 inches long.
Only logged in customers who have purchased this product may leave a review.