Wild Bryde Moose Pendant, 14K Gold Plate
$14.00
Description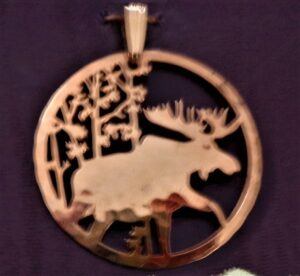 Wear an Alaskan symbol with this Wild Bryde moose pendant. This moose might be a bit more glamorous than the animals you see in the wild, as not many of the live critters come with gold plating!
The gold surface has been pounded slightly to give this moose pendant a bit of texture. It would look good on a fine gold chain.
The moose, just emerging from a group of trees, is indeed a handsome fellow! He measures 1-1/4 inch across. From the top of the bale to the base of the pendant the measurement is 1-1/2 inches long.
Only logged in customers who have purchased this product may leave a review.