Vintage Jar Lid Of Intricately Formed Celluloid Flowers
$20.00
1 in stock
Description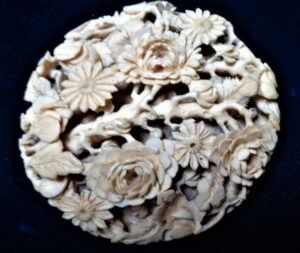 This vintage estate sale piece I almost kept. It's made of celluloid — an incredible array of blossoms and leaves, and of course, it includes a couple of roses.
It's been pried off a jar lid. I'd love to learn its history, but I'm going to guess. The container it was on fell down and broke, so the owner pried off the lovely top, perhaps to use again on another container.
I've looked at it several times, but just now noticed that a couple of very small fragments have broken off.
That does nothing to diminish its loveliness. Grab this piece of art and glue it on another container lid. Or, find some other unique way to use it. It is an incredible bit of craftsmanship.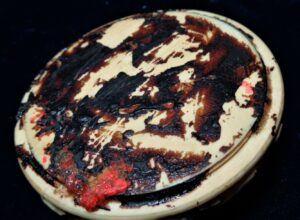 I learned in my research that, though some hand-carving is done to finish these pieces. they are made from a mold! It appears to me the mold itself must have been difficult to make, but at least you only had to make one, then reuse it.
Nevertheless, the workmanship is phenomenal.
This round piece measures almost three inches wide.
Only logged in customers who have purchased this product may leave a review.