Very Long Silver Necklace, Purple Beads, To Hold ID Card
$4.00
Description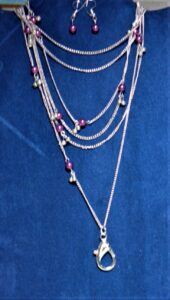 If you have to work somewhere that requires you to wear an ID card at all times, this silver and purple very long necklace might serve as an excellent ID holder for you. Small earrings with a matching purple bead are included with the set.
The necklace of silver-colored metal linked chain is made in two strands. The one holding the ID clip is a bit longer than the other. Small purple metallic beads with two small silver-colored beads close by add color at every couple of inches.
Because the necklace is so long, it can be doubled around your neck two or three times. It's upwards of 40 inches long, so gives you plenty of room to wrap it around your neck.
If you need to wear an ID, this one would make a very useful piece of jewelry.
Only logged in customers who have purchased this product may leave a review.