Unusual Ladybug Earrings Of Silver And Amber, French Hook Wires
$43.00
Description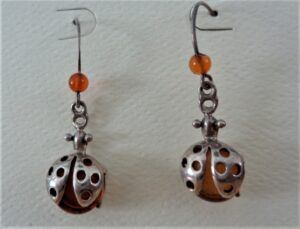 These earrings have a most original design. Each earring is set with a piece of amber, flat on one side and rounded on the other. Then it is set in a silver bezel, elaborately designed.
Over the amber are the ladybug's wings, formed of sterling, with the amber piece set under them. The silverwork forming the wings extends past the amber at the front, to form the head and eyes of the bug. Above this head is a double loop finding. The ear wire is attached to the top loop. Above where the wire fastens is a small, round amber bead.
These earrings furnish you a great design in a small package. From the wire with the amber bead to the base of the earring measures one inch long. The bug's body measures 1/2 inch wide.
I have never seen another pair of these earrings, so now is your chance to pick out something unique and little-seen with great styling.
Only logged in customers who have purchased this product may leave a review.