Unique Monkey Fist Earrings And Keyring From Alaska
$4.00
Description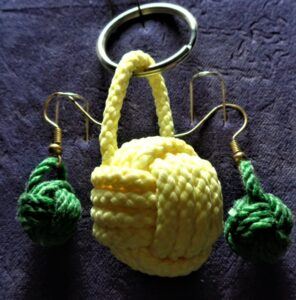 The monkey fist is a knot tied at the end of a rope to serve as a weight. Originally, it provided a heaving line knot thrown from one ship to another so the two vessels could be tied together.
With this selection, you receive a pair of small monkey fist earrings, providing a highly original use for these knots. You will also receive a larger monkey fist which you can use asa key chain.
If you like your adornments to be original, try these hand-tied fisherman's knots. The are light-weight and created with seine twine, for easy wearing. Be the first one in your crowd to have such unique jewelry.
Only logged in customers who have purchased this product may leave a review.