Small Sterling Silver Cross, Cutout Cross Design In Center
$6.00
Out of stock
Description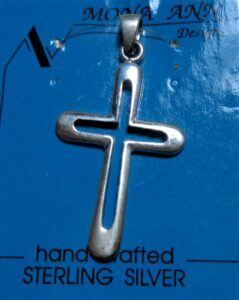 If you need to find a small sterling silver cross, look no further. Here you will see the first of two sterling crosses offered for your consideration. This very plain cross features a cut-out cross surrounded by asterling frame. In a sense, you are getting two crosses in one, and the cut-out area is nice because it shows the color of whatever garment you are wearing.
This cross measures 1 3/4 inches from the top of the bale to the bottom tip of the cross. The center cross-bars measure 1/2 inch wide.
Only logged in customers who have purchased this product may leave a review.